very very shmall but fresh and tasty fish of Kagoshima products : the Kibinago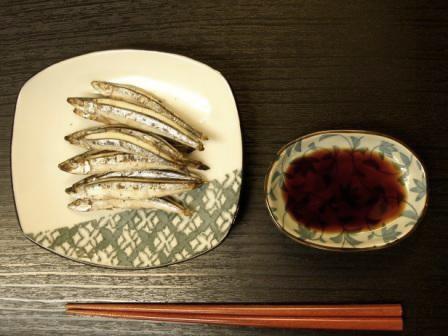 【eat a fish bone, head, tail, internal organs and all】
 The Silver-stripe round herring is a small fish. It size about 10cm. The fish is called the Kibinago in Japan. They belong to the herring family. They come to Japan with a warm current. Because they are too small to keep long, they are not sold out of the landing place still lately, but we can eat them even at the another place depend on the improvement of freezing technique.
 The best advantage of Kibinago is to eat all. Thier bone, head, tail, internal organs and all are able to eaten. The Kibinago is a good side dish for modern who are short of calcium.
 There are some kinds of how to eat the Kibinago. The sashimi is most delicious. They are cooked to push the internal organs out by the thumb. The sauce is generally the miso and vinegar sauce in Kagoshima. The Kibinago are so small that it must be cooked a lot. Even housewives cook mode than 2 hours full of a big bowl, her family eat within 30 minutes. So this move them to tears.
 Then the sashimi is too hard to eat out of the place for the catching Kibinago. It needs fresh. We recommand the groceries and the fried fish to out of Kagoshima people. Specially the dried Kibionago are good. The dried Kibinago keep the natural shape without the wrinkles as a shishamo smelt. We roast them lightly. The seed Kibinago is so specially tasty that we feel drop our cheeks down.